Our Trip to Derby City
Over the last week we have been in Campbellsville we have been talking about things we would like to check out or explore while we are in the Commonwealth of Kentucky. Our list seems to keep growing and we already feel like we are running out of time. We will fit in as much as we can on our days off (as well us some rest & relaxation) from working at Amazon this holiday season. Regardless, we are so incredibly thankful that we decided to embark on this adventure and can take time to see so many great things across the country. Life is good. So today - off we went to experience some of Louisville.
Our first stop was the Louisville Slugger Factory & Museum which was on our & probably every other baseball lover's bucket list. As a diehard Cleveland Indians fan (Betsy), it almost seemed magically to be there as the Indians are in the brink of winning the World Series. The Louisville Slugger Factory & Museum tells the story behind the bat through a guided tour of the factory where the bats are still crafted. We got an inside look into how the most famous brand of bats are made, including the old fashioned way on a lathe (takes 30 minutes/bat) and then using the new computerized technology (takes 30 seconds/bat). We literally got to watch the wood chips fly while walking right through the heart of our production line. My heart went a pitter-patter when we were told they were currently making bats that would be in the hands of the big-leaguers for TOMORROW night's World Series game. We potentially saw the bat that will hit in the winning run (for the Indians of course) of the 2016 World Series - that's pretty darn cool. Someone will be driving the bats to Cleveland tomorrow - talk about freshly-made bats. And the smell, oh the delectable smell of fresh cut wood. Love it!
We were able to swing replica bats of a few of the major-league greats and read about some of the historical moments in baseball history. Russ and I both enjoyed striking out a batter in the simulated pitching machine - Hey Batta, Batta. Swing, Batta! Okay, so Russ struck out the major leaguer while I gave up a single. Give me a break, I spent most of my years on the other side of the plate catching. I can call em' and catch em', just don't ask me to pitch em'. We also walked through the new Ripley believe it or not exhibit which featured bizarre and quirky team-themed treasures. Before leaving the Louisville Slugger Factory & Museum, I couldn't pass up a chance to hit the batting cages with the latest line of Louisville Slugger softball bats. Much to my surprise, I made contact every time. Coach Phil would be proud - I started out by laying down a bunt.
The factory tour was about a half hour and we spent an additional hour or so in the rest of the museum itself. After the tour, everyone gets a complimentary miniature Louisville Slugger bat. Bring on the pinatas - this little guy would be lethal. Candy puh-lease?
We took a quick lunch break at came across this lovely coffee shop, Safai Coffee, in the Highlands district of Lousiville. Super cute decor which would provide an awesome place to spend the afternoon blogging or catching up on emails. Maybe we can sneak in another stop there. Russ enjoyed a ROCKET - strong & smooth cold brew with a shot of espresso. He kept acting like he was taking off like a rocket, but thankfully it must have worn off as he is currently comfortably napping on the sofa.
To burn off a little of our lunch, we decided to walk to Indiana. Sounds funny doesn't it? But seriously, we really did via the Big Four Bridge which links the Louisville Waterfront Park to the quaint downtown of Jeffersonville, Indiana high above the Ohio River. The bridge was originally built as a railroad bridge and is named after the four Railroad Companies that used it: Cleveland, Cincinnati, Chicago, and St. Louis. It was decommissioned as a railroad bridge in the 1960s and reopened as a pedestrian and bicycle bridge in 2013. Wonderful that they are putting the old bridge to great use! The Big Four Bridge was an awesome way to experience the Louisville skyline, the Ohio River, and the neat little city of Jeffersonville. It looks like the downtown is in the process of going through a major revitalization of both residential and commercial properties. Seems like a town we would love to check out in more detail - after all there is an ice cream shop at the base of the bridge (I'm currently regretting not getting a scoop). I should really carry I sign next time that says "Will walk to Indiana for ice cream". However that makes it sound better than it really is because it is only about 2 miles roundtrip, but whose counting miles?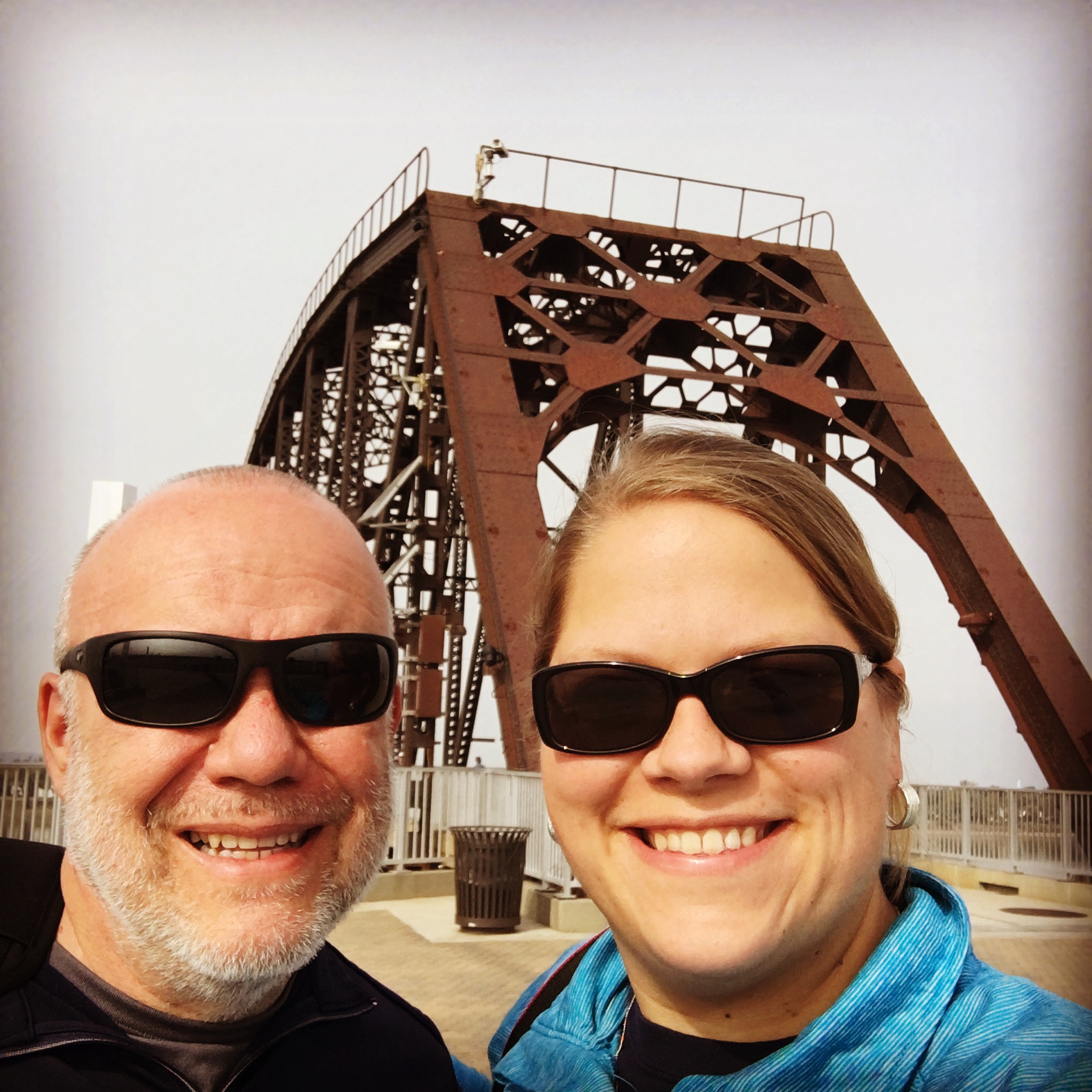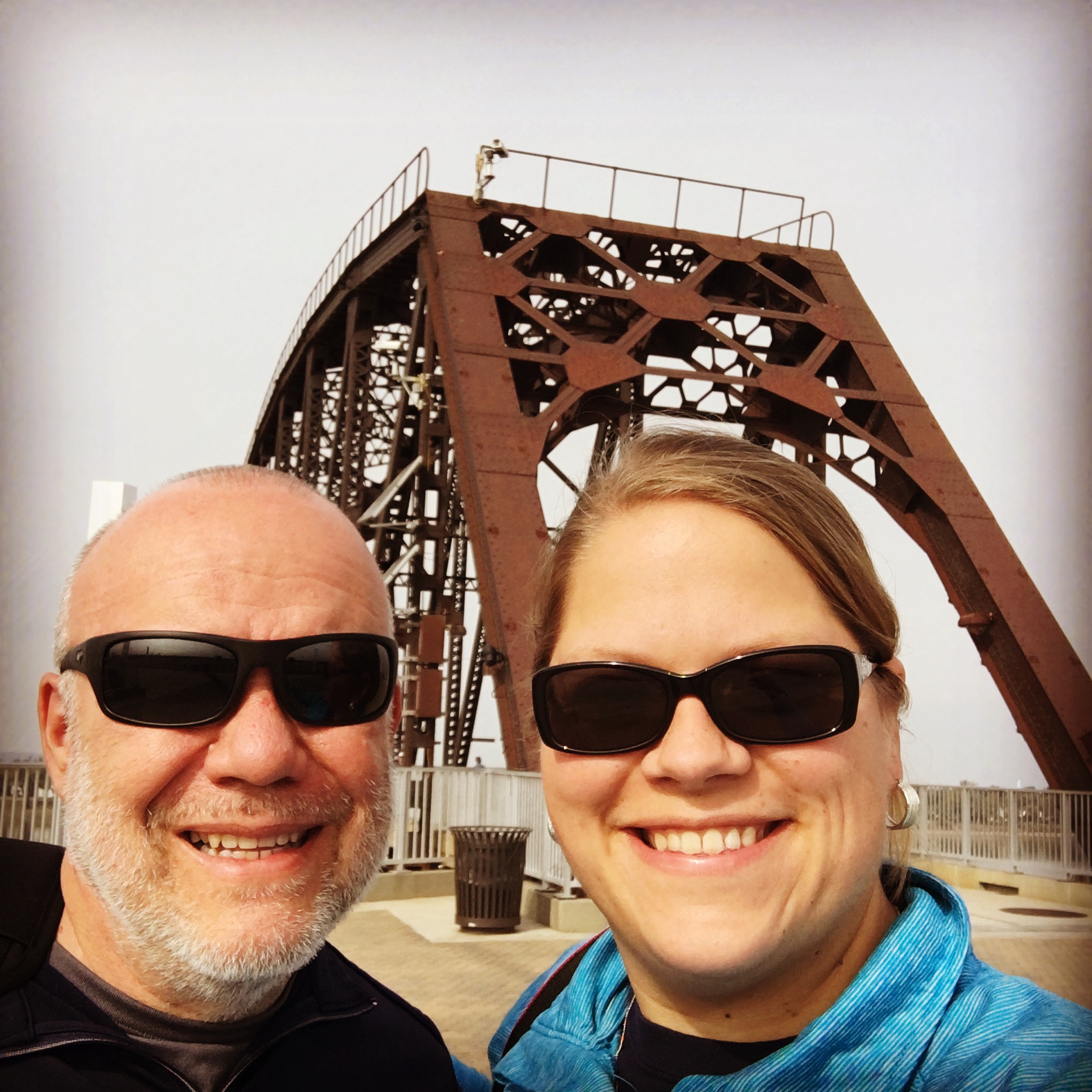 What's Kentucky with out a little Derby-talk? We never knew that the home of the Kentucky Derby, Churchill Downs, was so close to downtown Lousiville, making it super convenient to partake in a tour and some museum time. We started out with a walking tour (included with the price of admission) on the grounds which was the highlight of our visit. It was cool to see the names of all the Thoroughbred horses that have won over the years and stand in the winner's circle with the famous twin spires in view. Our tour guide was wonderful walking us through the history of the Kentucky Derby and providing tidbits of interesting facts about the horses, trainers, and jockeys.
The Kentucky Derby Museum features two floors of exhibit space, including a circular theatre, race simulator, and of course a display of the winners of the annual silly derby hat contest.
For our Philly Faithful - we saw the burial ground of Barbaro who was bred and owned by stables in West Grove, PA. He was undefeated heading into the Kentucky Derby and charged ahead six and a half lengths to win the 2006 derby in a full field of twenty horses. Unfortunately, his race career came to an abrupt end when he shattered his leg two weeks later in the Preakness. RIP Barbaro.
We joked that while most people would prefer to be at Churchill Downs the first Saturday in May, we preferred the much more casual visit without all the crowds and craziness. We weren't wearing the expected silly hats or drinking a traditional Mint Julep, but we definitely enjoyed our visit to the Kentucky Derby Museum & Churchill Downs.
While I'm sure we missed out on some great things in Lousiville, we are glad we were able to spend the day hitting up a couple big points of interest in the area. Until next time Derby City…