Moving Sale
After receiving an offer on the house a little less than 2 weeks ago and closing day scheduled in about 9 days, a quick moving sale was a must! Our original plan of attending the Limerick Community Yard Sale at the end of the month wasn't going to work. We had to get rid of a bunch of stuff really quickly! Never having a yard sale, I googled "how to have a killer yard sale" and read people's ideas and suggestions. Today was the sale and we consider it a success! The rest of the stuff is being picked up for donation tomorrow. We received compliments from several people about our sale - "best yard sale they had ever been too", "most organized", "first one with free donuts", and had a customer return 3 times because she said it was the "best garage sale of the day". We are just going to consider it beginner's luck! If you are planning a garage/yard/moving sale, here's a few tips we took into consideration. Of course the one thing you can't control is the weather. In our case, we most certainly lucked out - it was literally a perfect weather day!
Price Everything - I know it takes lots of time! But it is well worth the time for both the customer and you as the seller. There won't be any confusion when you go to total up a customer's order. While some buyers will ask about an unpriced item, others will just pass on the item rather than bother finding someone to ask about the price!
Consistent and Ample Signage - size does matter. Make sure to include necessary information - day, time, location. Use bold colors and something to catch the eye! This is also a time consuming piece. Start making these early - as soon as you have a scheduled date for the sale!
Advertise - Make sure to list your yard sale on Craigs List, YardSale.com, Facebook Yard Sale Sites, Newspaper (if it is reasonable). We opted not to invest the money to advertise in the local newspaper. Make sure to advertise it accurately so you attract the right customers! Ours was mainly household, furniture, and clothing items so people looking for kids toys would know this wasn't the sale for them!
Organize & Display - Don't throw your stuff around all willy nilly. Use tables, chairs and other props to make your sale feel more like a department store. When things sell, take the time to rearrange and consolidate the merchandise! Make sure to put the large items and attention grabbing items near the curb to encourage cars to stop and check out what else you might have!
Price to Sell - The goal of a garage/yard/moving sale should be to get rid of stuff while making a little extra cash! If you have things you aren't willing to price aggressively, sell those items on eBay or in another manner. Yard Sale shoppers are looking for deals - make sure to provide them! Even with great prices, you may have times you will need to be willing to negotiate - especially as the sale starts to wind down!
Free Donuts or Snacks - Someone might decide to attend just because of the free donuts and could end up making a large purchase. This is a minor cost to make your yard sale stand out from the competition. It will also result in more cheerful buyers - can you really look at a donut and be grumpy??
Stock Up on Change – Make sure to have plenty of $1 bills handy for making change plus a few $5's and $10's. We priced everything in $0.25 increments, so we only need to stock quarters. We went through a bunch of quarters! Even if it is a fashion faux pas, wear something to stash your cash as you are moving around (apron, wristlet, or fanny pack) during the sale!
I didn't do a very good job of taking photos at the beginning of the sale when we still had loads of things for sale. We were still busy trying to get things in place before the start time of 8 AM. We were planning to finish up around 7 AM as we had heard it was really common to have early birds - which we did. Here are the photos from mid-point of our Saturday Sale!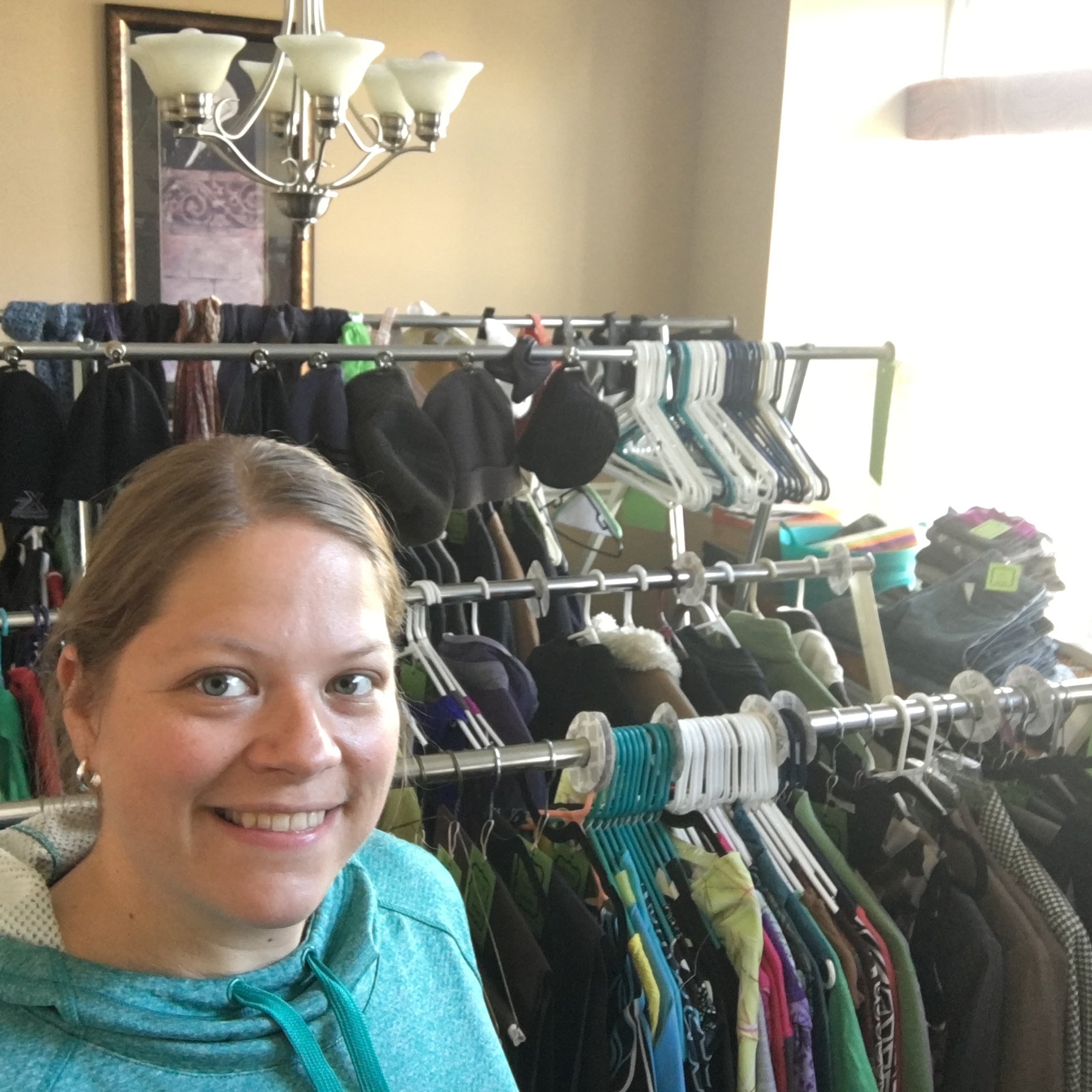 If you have any additional tips for a successful yard sale - add them to the comments section below. Help a girl out! :)