Quite the View - Brunch & a Museum
Time keeps on slipping', slippin, slippin' into the future 🎶 …. (My apologies for getting that song stuck in your head for the rest of the day)! But really, it is hard to believe our summer workamping in Maine is coming to an end. We only have about 10 more days, so even though I (Betsy) had to work this afternoon, it didn't stop us from getting out to check a few more things off our "Must Dos in Maine" list. So we wanted to fly like an eagle to the sea 🎶 or maybe we wanted to drive like a Honda to a view of the sea. Okay, enough of the song lyrics, let's get down to the facts! But really we did drive up to the elevated Looking Glass Restaurant that sits atop a hill overlooking the Frenchman Bay. After seeing their sign on one of our first trips into Bar Harbor advertising their panoramic views, the next logical step was to check their menu for some gluten free fare. With indications of great views & tasty gluten free grub to boot, it was added to our list of places to nosh before we left Bar Harbor. Lucky for us, today was the day…
We arrived shortly after 9 AM with our tastebuds in brunch mode! The Looking Glass Restaurant is open for breakfast and dinner. While there are several popular breakfast joints in downtown Bar Harbor, The Looking Glass Restaurant provides a great place to escape the crowded town and has views that can't be replicated by those other breakfast spots. While there was an outside deck for dining complete with a fire pit and rope lights, we opted for the rustic dining room with a high-vaulted ceiling with with impressive chandelier and exposed beams. While parts of the building showed age, the floor-to-ceiling, wall-to-wall windows made for an excellent distraction. The view overlooking the harbor was breathtaking and gave us a different perspective of the sand bar, cruise ships, downtown, and islands.
We were immediately seated and provided with menus. Our friendly waitress stopped over right away and got us some drinks and gave us a little more information about their gluten-free offerings. While the views kept us pretty mesmerized, we were able to settle on a few things on the menu. The flavors popped off the paper when reading about the Beehive Breakfast Bowl which was my choice for brunch - roasted sweet potato hash, red peppers, black beans, crispy leeks, and a blueberry chili sauce. When our waitress asked about adding an egg to the mix, I couldn't resist. Due to the fact our access to fresh Maine lobster is coming to an end, Russ couldn't resist the Lobster Rinehart - which was an omelet stuffed with Maine lobster, goat cheese, and chives. Both meals were served piping hot with an excellent combination of flavors completed by attractive plating! Look at that little lobster claw strategically sticking out of that omelet. Don't worry, Russ didn't let it escape. And I can't go without mentioning the Blueberry Chili Sauce…. you see, I don't like blueberries! But next time, I am ordering a bowl of the sweet & spicy combination with a soup spoon - YUM! While you won't walk by this place downtown, I highly recommend driving, walking, or shuttling yourself to The Looking Glass Restaurant. A little hidden breakfast or dinner gem.
After filling our bellies and with a little more time to explore before it was time for me to head into work to guide another Acadia National Park tour, we headed across the street to the College of the Atlantic where we found to the George Dorr Museum of Natural History. During our first week in Maine, I had grabbed a brochure for the museum. It only took five months for us to stop in for a visit. The museum features dioramas, a touch tank, marine skeletons, and taxidermy mounts. It is not a large museum, but we spent about 30 minutes learning about the natural history of Maine. All the exhibits are designed and put together by students of the college. Entrance to the museum is by donation and worth spending some bucks to check out this small, local museum.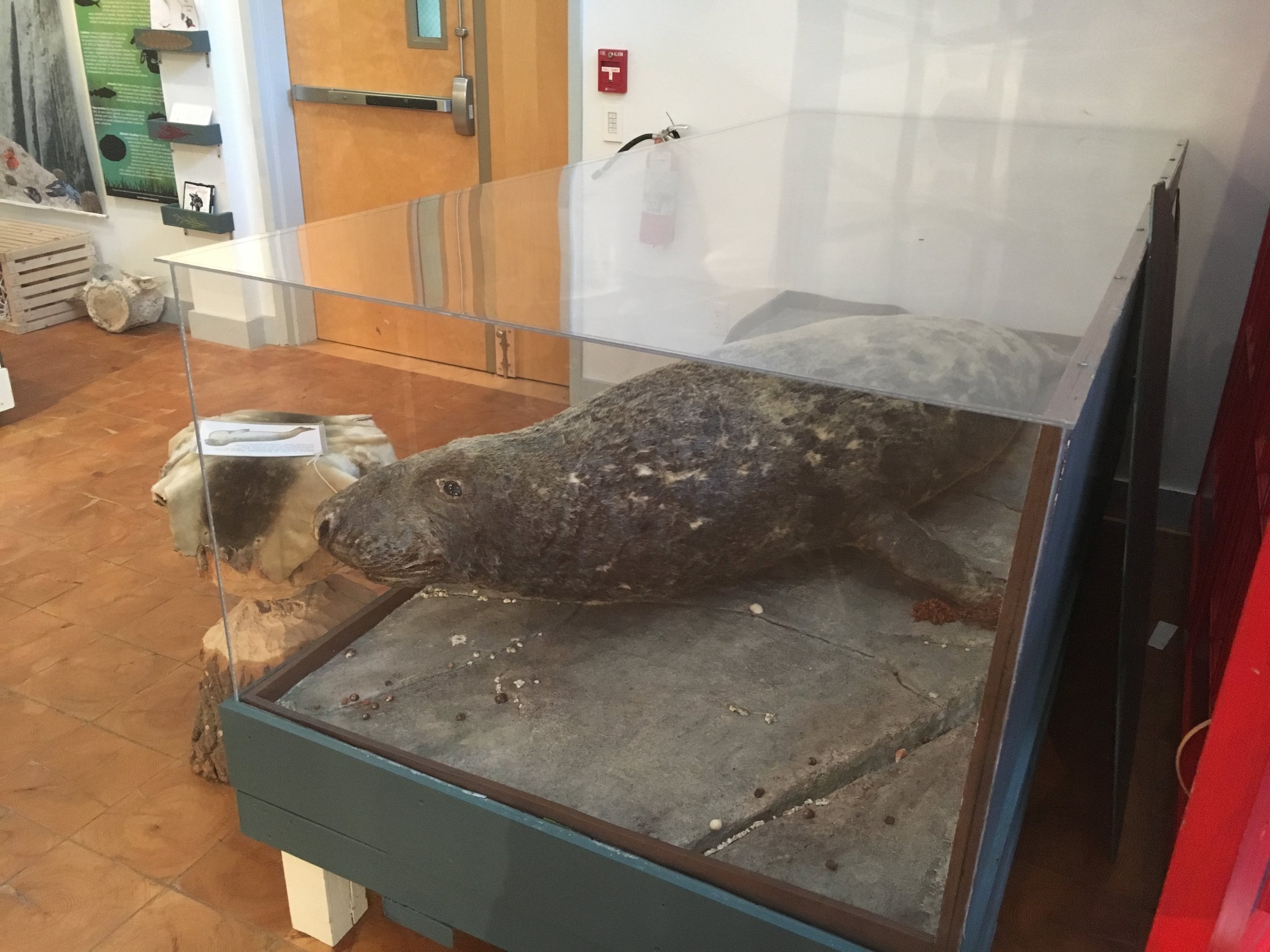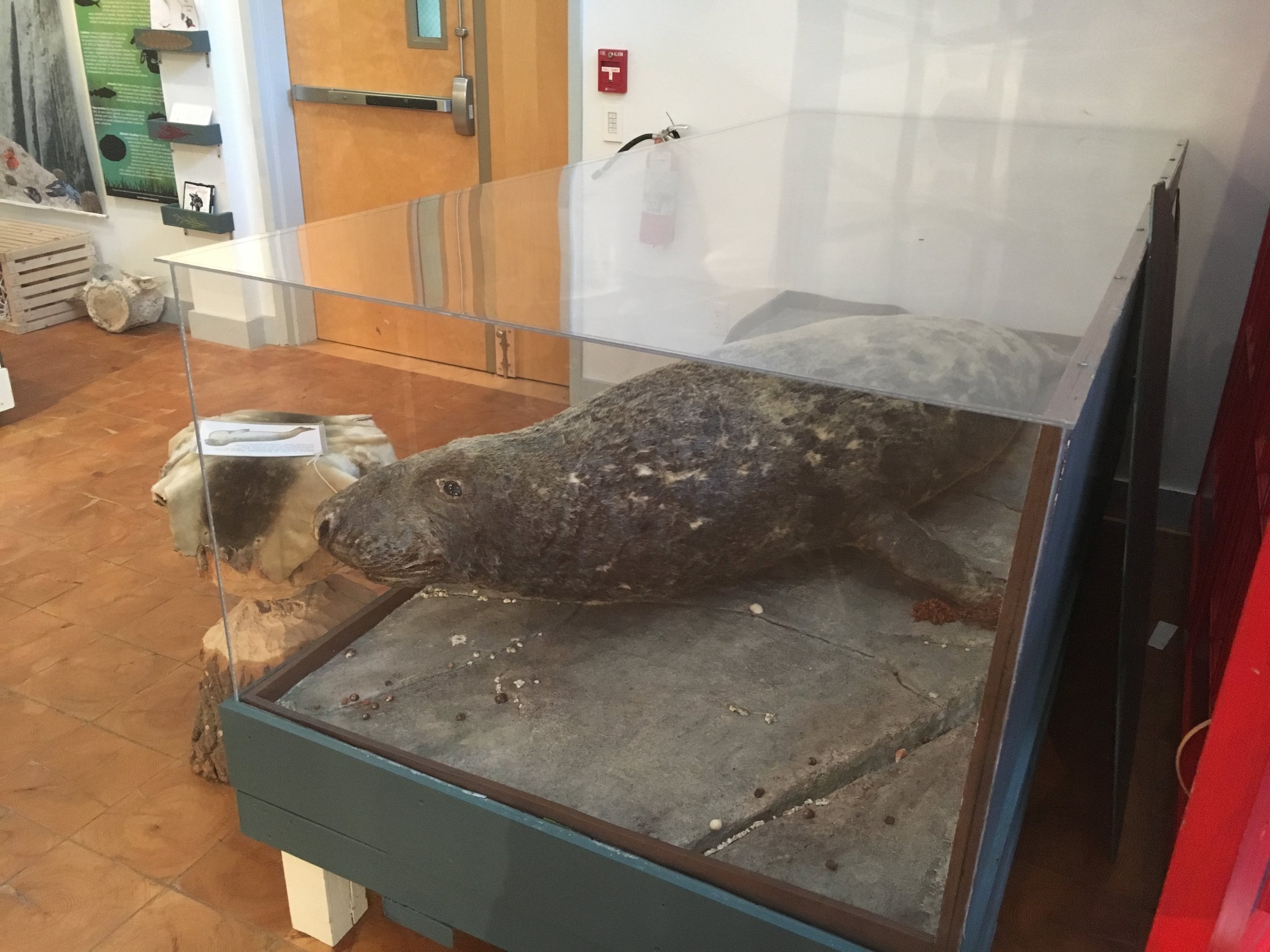 I would say all in a day's work, but I hadn't been to work yet. So all in a day's play!